Anita Grant has been in the haircare business for quite a while and all who try her products can certainly be at ease that what they are putting on their bodies is just about as safe as what they put in their bodies. This company has a diverse line of products that you can be certain you will find something that suited you hair care needs, but they certainly don't stop there, they also have wonderful skin care products for you to try. But we are going to be focusing our attention on one of their hair products,  the Anita Grant's Curl Conditioning Double Cream Moisture Balance.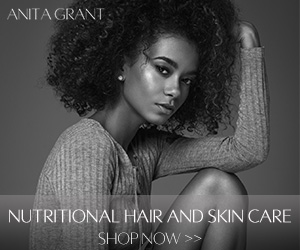 Our Favorite Pick of Anita Grant's Line of Hair Products 
Anita Grant is a company that provides you with a plethora of products to choose from and one of their products that we love to use is the Curl Conditioning Double Cream Moisture Balance. It is a very nourishing daily leave-in conditioner. It provides your hair with enough moisture to create wonderful, supple, soft, and fluffy hair. Let's just say my curly hair was on cloud 9 when I gave this leave-in conditioner a try. I was able to get plenty of definition and my hair had little to no frizz, all day long.
One thing I really liked about this product is that it felt great, not sticky and not too heavy. It certainly moisturizes really well and I find no need to re-moisturize my hair all day long, unless I have spent a majority of the day outside on a hot summer day.
Just based on the level of moisture retained from using the Double Cream Leave-in alone is reason enough to try this product.
Also, creating slick buns were oh, so, easy. And the lovely, neat braid-out styles I am able to get when using this product make it a definite must have in my arsenal of hair styling products.
Thinking About Giving It A Try?
So, thinking about giving this product a try? Then, here is some food for thought… Human hair and the oil secreted from the scalp has a pH range between 4.5 to 5.5. This acidic pH range helps defend both the hair and scalp from microbes -bacteria, fungi, i.e.foreign matters that can and will reek havoc on your scalp and create an unhygienic environment for your hair.


For healthy optimal hair growth, a well balanced pH is necessary. So, the pH of the products you use on your hair and especially your scalp do matter! This is where products like Anita Grant's Curl Conditioning Double CreamMoisture Balance come in since they give the hair nourishment, all the while maintaining the hair and scalp's pH at a desirable range. This product itself is at a pH range of 5.0 to 5.5, so you certainly have nothing to worry about when it comes to maintaining your healthy hair's pH balance.
The added bonus of using pH balanced products is a frizz free look since the cuticles of hair that is pH balanced have a natural tendency to lay flat. This results in a slicker more polished look when it comes to styling your hair. With the one exception being if using on hair when it is severely damaged then your results may vary depending on the severity of damage tho hair strands.
Wrapping It All Up
Anita Grant is a company that has been recognized for it wonderful products…most recently, the Beauty Shortlist Award 2019. So, if you haven't already made up your mind about trying Anita Grant's line of products,  go ahead and take the leap and at least give their Curl Conditioning Double Cream a try, you most certainly will be glad you did – it is well worth it! And I certainly hope our review of Anita Grant's Curl Conditioning Double Cream Moisture Balance makes you want to give it a try. I can almost say with great certainty that you are highly likely to keep it in your regular rotation of products…I know I certainly will.
If you have given Anita Grant's Curl Conditioning Double Cream Moisture Balance a try and would like to share your results, please feel free to leave a comment below. Or if you have tried any of her other products (skin or hair related) do share with us you're restless, we would love to hear from you all.
Don't forget to subscribe for new and exciting articles we have coming up.
Please follow and like us: